Published on June 1, 2016 at 9:38 AM
A unique blend of organically harvested superfoods created
by health pioneers BetterYou, has scooped the top prize in
the Best Supplement category at the Veggie Awards, a true
mark of quality in the meat-free industry.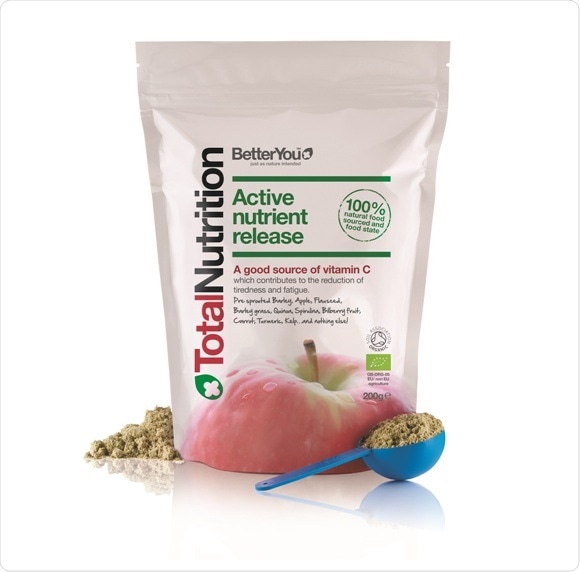 Category judge and Natural Health magazine deputy editor
Allison Jacobs, chose BetterYou's TotalNutrition Superfood
powder as her winner after trailing the product which
delivers whole food nutrients quickly into the bloodstream
for immediate and sustained energy.
Of BetterYou TotalNutrition Allison said:
Designed to be whizzed into a smoothie or used during
cooking, this blend of 10 organic superfoods delivers
your complete nutritional profile, including essential
omega fats 3 and 6, all in their natural, food-state,
bioavailable form.
BetterYou has also developed a TotalNutrition recipe
booklet with Dale Pinnock, the UK's most exciting medicinal
chef, which shows just how versatile the product is.
TotalNutrition can pump up your pesto, be added to gazpacho
soup, or give your guacamole a powerful kick in the
nutrients.
BetterYou founder and managing director Andrew Thomas says:
We are delighted that BetterYou's TotalNutrition
Superfood powder has won the Best Supplement accolade.
Our modern daily diet intake, hectic lifestyles and
mineral-depleted soil mean our food is simply not as
nutrient rich as it once was.
The unique combination of 100 per cent organic superfoods
has been individually selected for their nutritional
balance and optimal bioavailability, helping to replace
some of those lost from processed meals.
Each ingredient has been cultivated and farmed according
to approved organic standards and we are proud to say
these have been verified by The Soil Association and
comply with both UK and European organic production and
harvesting.
All the ingredients are in a complete food state rather
than in a synthetic or isolated form, ensuring optimal
absorption within the body. This natural supplement is
gentle on the digestive system and works in harmony with
your bodies rhythms to provide support for every body
system.
TotalNutrition can be enjoyed by the entire family and is
suitable during pregnancy and while nursing.
A highlight in Veggie magazine's calendar, the Veggie
Awards host 28 categories ranging from Best
Vegetarian/Vegan Cheese and Favourite Vegetarian
Personality to Best Vegetarian Cookbook and Top Meat
Replacement, celebrating every corner of the vegetarian
market.
Source:
http://www.betteryou.com/