Published on May 26, 2016 at 9:35 AM
Britons are putting their sight at risk – potentially
exposing themselves to cataracts and macular degeneration –
by choosing vanity over UV protection when buying
sunglasses, new research from Vision Express has revealed.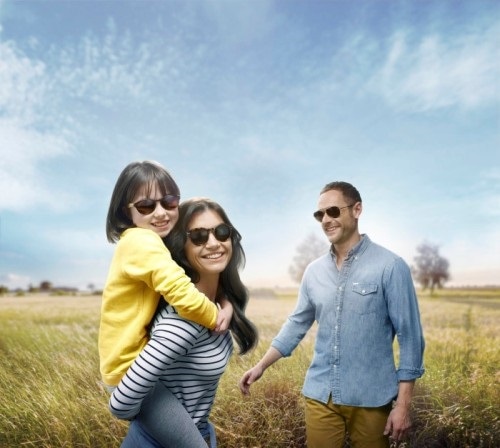 Take sun safety seriously – Vision Express urges
Britons to protect eyes from UV rays that could steal
sight
The study shows that more than one in three (37%)
sunglasses-buyers confess they don't always check UV rating
of lenses, despite 94% believing it is important to do so.
Worryingly, the research reveals an over-riding assumption
that all sunglasses carry full UVA and UVB protection –
meaning this summer up to 20 million people in the UK could
be putting their sight at risk.
Omar Hassan, head of professional services at Vision
Express, explains:
Our concern highlighted by the research is that people
are prioritising style over safety, mistakenly believing
that all sunglasses are made to an equal standard to
block all harmful UV rays. This just isn't the case. It's
a huge problem because wearing tinted lenses with no
protection 'tricks' the pupil into dilating and
ultimately may cause more damage to the retina than no
protection at all.
A good pair of sunglasses will filter both UVA and UVB
and significantly reduce the risk of eye conditions
impacted by exposure to sun rays – this includes
cataracts and macular degeneration – which can cause
blindness. It's estimated that every year three million
people lose their sight due to prolonged exposure to UV,
so while sun-safety is important for our skin, it's
crucial to protect the eyes too. Anyone buying sunglasses
off the shelf without prescription should use a reputable
retailer and check the frames are CE marked as UV400.
The research, which combined a national survey and focus
groups, found that while 3 in 4 sunglasses-wearers need a
prescription, a third of these only purchase
non-prescription frames.
Omar added:
It's important for the public to recognise that not all
non-prescription sunglasses will provide adequate sight
protection, and counterfeit sunglasses or buying from a
market stall or beach vendor should be avoided. At best
they could be a rip off – at worst they could be putting
your vision at risk.
Studies tell us two million people in the UK are living
with sight loss and forecasters predict a further half a
million could lose their sight by the year 2020. So, our
advice is to always be 'sun safe' when choosing eyewear,
seek out an expert to advise on the best lenses for you,
and adopt preventative measures to help safeguard sight
as you age.
Did you know?
Children and adults with light coloured eyes are most
at risk from sun damage and those with blue eyes should
always wear sunglasses when possible
70% of children don't wear sunglasses, despite most UV
damage taking its toll on the eyes before the age of 18
Up to 10% of all skin cancers are found on the eyelid
The World Health Organisation reports that, worldwide,
approximately 900,000 people are blind because of cataracts
triggered by UV exposure
1 out of 5 cataracts may be due to UV exposure
Over time UV light may play a role in damaging the
macular, potentially leading to blurriness and vision loss
Photokeratitis is a painful condition a sunburn of the
eye. While it's temporary (healing within 48 hours) it can
cause blurred vision, light sensitivity, and the sensation
of having sand in your eyes.
Wearing sunglasses can help reduce the symptoms of hay
fever.
Tips for seeing safely in the sun from Vision
Express
Start young – up to 80% of a person's lifetime exposure
to UV will occur before the age of 18, according to a study
by the World Health Organisation. Young people's eyes are
more sensitive to UV absorption and under-12s are
particularly susceptible because the clear lenses in their
eyes are not yet properly formed. In addition to
sunglasses, parasols and wide peaked hats and caps offer
suitable protection, particularly for babies and toddlers.
Check for quality stamps. Non-prescription sunglasses
must meet the British Standard BS EN ISO 12312-1.
Prescription sunglasses should also comply with BS EN ISO
12312-1:2013 and BS EN ISO 8980-3. All sunglasses should
carry the "CE" mark.
Get frames fitted by an expert – sunglasses offer the
best protection when they are properly fitted to your face.
Fitting is carried out as part of the Vision Express
service by a qualified expert.
Be safe all year round – UV light is extremely damaging
to the cornea and lens in the eye and can cause them to
discolour and become opaque with age. Sun protection is
crucial, not only on holidays and during the summer months,
but throughout the year, even in winter sun. Polarised
sunglasses offer the best protection and even contact
lenses and non-sun glasses shield the sun.
Have regular eye examinations – the best way to protect
eyes is by having regular check-ups, these will highlight
any sight problems or damage and can determine other health
issues such as high cholesterol and even diabetes.
Vision Express has a range of sunglasses for all budgets,
with its recently-launched 'Exclusive Brands' collection
offering a high quality, value for money alternative to
designer glasses, with prices starting at £39.
Vision Express offers both prescription and
non-prescription sunglasses, with all frames having 100% UV
protection at 400nm, as standard.
Source:
http://www.visionexpress.com/